Friday, December 2, 2022
2pm – 4pm
MOCANOMI
770 NE 125th street
North Miami, FL 33161
Register @ https://INCONKPDW.eventbrite.com
Join the Yale Alumni Art League in partnership with Sugarcane Magazine and the Museum of
Contemporary Art North Miami for an In-Conversation and reception with the Stavros Niarchos
Foundation Dean of the Yale School of Art, Kymberly Pinder '89 MA, '95 PhD and Didier
William '09 MFA in celebration of the largest retrospective of his career, "Didier William: Nou
Kite Tout Sa Dèyè."

Translated as "We've Left That All Behind," the show presents an in-depth look at the North
Miami-raised artist's career and memory among the very neighborhood where he once grew up.
Curated by Erica Moiah James, Ph.D, the exhibition will feature over forty works spanning
multiple mediums, and including some of his newest paintings. Complementing the painted
work, and speaking to the close relationship of painting and printmaking in William's practice,
are new drawings and artist books. The show also includes William's first monumental
sculpture: a 12-ft.-tall wooden body emblematic of a religious column present in Haitian worship
rituals.
Didier William earned his BFA in painting from The Maryland Institute College of Art and an
MFA in Painting and Printmaking from Yale University, School of Art. William has exhibited at
the Wadsworth Atheneum Museum of Art, Hartford, CT; Bronx Museum of Art, Museum of
Latin American Art, Long Beach, CA; Figge Art Museum, Davenport, IA; Museum at the
Pennsylvania Academy of Fine Arts, Philadelphia, PA; Crystal Bridges Museum of American
Art, Bentonville, AR; and the Museum of the African Diaspora; San Francisco, CA, among
others. His work has received critical recognition from The New York Times, Los Angeles
Times, Hyperallergic, Harpers Magazine, New York Magazine and Art In America. William was
a 2020 recipient of the Joan Mitchell Foundation Painters & Sculptors Grant, and has taught at
several institutions including Yale School of Art, Vassar College, Columbia University,
University of Pennsylvania and SUNY Purchase. He is currently Assistant Professor at Rutgers
University. Didier William lives and works in Philadelphia.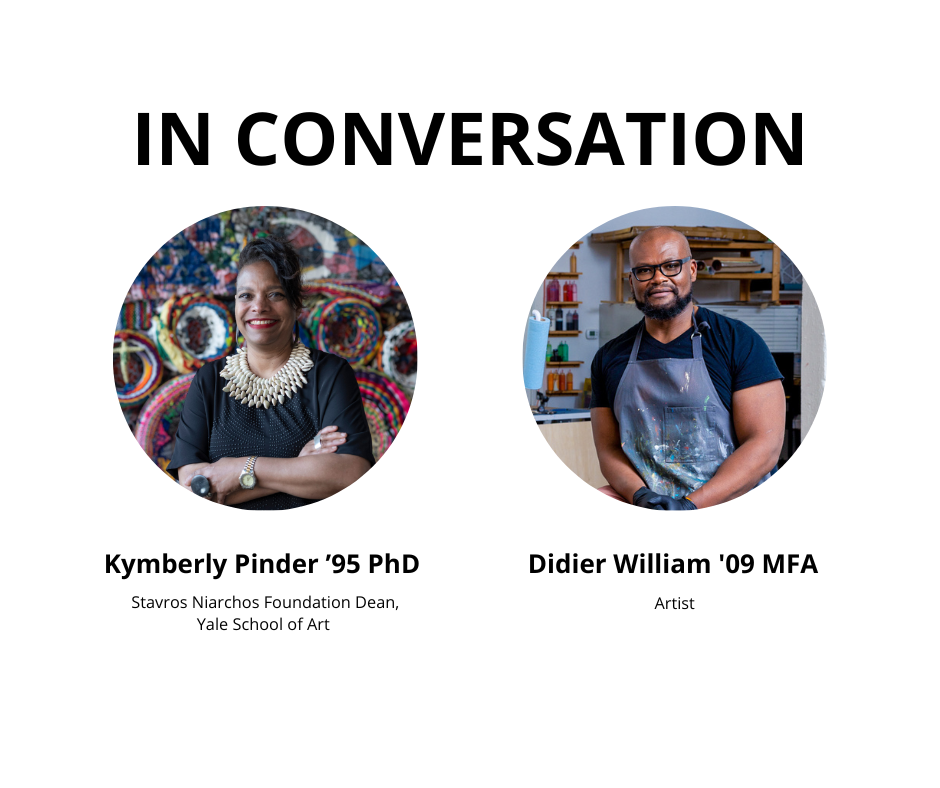 Dr. Kymberly Pinder is the Stavros Niarchos Foundation Dean of the Yale School of Art and
Professor of Art. As a scholar and a curator, Dr. Pinder teaches, writes and lectures on
representations of religion, history and race in American Art, and has authored multiple books on
the subject, most recently Painting the Gospel: Black Public Art and Religion in Chicago. She is
also the editor of Race-ing Art History: Critical Readings in Race and Art History. Her curatorial
projects include "Necessary Force: Art of the Police State" and "Spreading the Gospel: Graffiti
and the Public Space as Canvas." As a mural scholar, Dr. Pinder has always been committed to
community engagement and interdisciplinary initiatives. Working with different artists and local
officials, she has taught courses that have led to the creation of murals in Chicago and
Albuquerque. Previously, she was Provost and Senior Vice President of Massachusetts College
of Art and Design, the Dean of Fine Arts and the museum director at University of New Mexico,
and a professor at the School of the Art Institute of Chicago.
*Image Credits:
Didier William, Mosaic Pool, Miami, 2021, acrylic, collage, ink, wood carving on panel, 68 x 104 inches, Collection of Reginald and Aliya Browne
Dean Kymberly Pinder in the studio of Younes Kouider '23 MFA. Photo by Lisa Kereszi '00 MFA
Didier William Photo: Ryan Collerd, Courtesy of the Pew Center for Arts and
Heritage