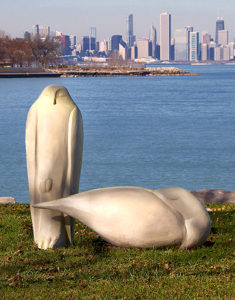 This July we celebrate "Artifact" an Oak Park Art League Invitational.  Margot McMahon '84 MFA, will sculpt as her nonviolence statement a young Hemingway at the time he wrote his legendary novel "A Farewell to Arms", around a Coronoa 3 typwriter. Her sculpted portrait is focused around an Oak Park ARTifact, a similar typewriter to Hemingway's loaned by Peritz Brothers Stationary Store.  Margot's drawings, paintings and a sculpture in progress will be on exhibit through July.
Margot McMahon, chatted with sculptor Sylvia Haskins as they walked across Ragdale's Prairie on Saturdays in the mid-1970's to sculpt in Sylvia's Lake Forest studio. Since, Sylvia's sculpture of the "Bird Girl" has graced the cover of the book, "Midnight in the Garden of Good and Evil" and this fiftyacre prairie has been protected and nutured by Open Lands.  Ragdale's front several acres has offered residencies with the time and space for creating art for 40 years.  This year we celebrate Sylvia Shaw Judson's gifts of her sculptures with an Oak Park Art League Courtyard Exhibition of her of quiet, symbolic and reflective sculptures.
 Margot's "Hawk and Dove" are on exhibit at Krasl 's Arboretum  in St. Joseph Michigan for the 2016 Biennial.  "Prey" is exhibited this summer in Krasl Gallery.