Nathan Carter '99 MFA has a solo exhibition at Denver's Museum of Contemporary Art. The show is on view from September 24, 2016 – January 29, 2017 at MCA Denver.
"Ladies and Gentlemen, Meet the Dramastics" presents sculpture, drawings, installations, and miniature stage sets that were used in the production his film, The Dramatics are Loud AF.
"With the combination of stage production and works of sculpture and drawing, the exhibition brings together the fantasy of freedom symbolized by a female punk-rock band Using a child-like and DIY style, Carter's drawings and sculptures embody a sense of play and imagination."
There are accompanying drawings, an interactive stage, a photo booth so viewers can lip-sync and perform.
Nathan Carter was born in 1970 in Dallas, TX. He received his BFA from the School of the Museum of Fine Arts, Boston in 1995 and MFA from Yale University School of Art, New Haven in 1999. Carter has exhibited internationally, at institutions such as the Bristol Museum & Art Gallery, Bristol, UK (2016); Middlesbrough Institute of Modern Art, Middlesbrough, UK (2015); Gallery of Modern Art, Glasgow, UK (2014); Kemper Museum of Contemporary Art, Kansas City, MO (2013); Blaffer Art Museum, University of Houston, TX (solo) (2012); Museum of Contemporary Art, Chicago, IL (2012); Bass Museum of Art, Miami Beach, FL (2011); Museo de Arte Raul Anguiano, Guadalajara, Mexico (solo) (2010); Nasher Sculpture Center, Dallas, TX (2010); and ArtPace, San Antonio, TX (solo) (2008). He lives and works in Brooklyn, New York.
Thursday November 17
7:00 PM – 9:00 PM
ARTIST TALK + SCREENING
Artist Nathan Carter talks about his work and the inspiration behind his exhibition "Ladies and Gentlemen: Meet The Dramastics," Plus A Screening Of The Short Film The Dramastics Are Loud AF. With Director Adam Lerner.
---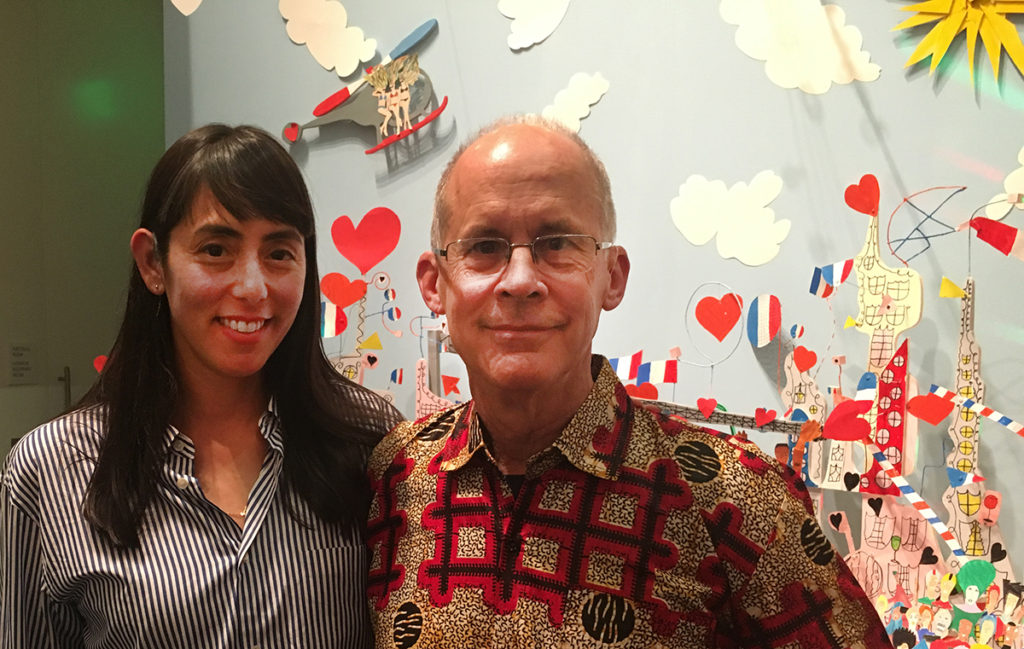 Nathan Carter's wife Miko McGinty '93BA, JE '98 MFA and John Boak '70 at Nathan's opening on October 7, 2016.